In my house, we have kids in the kitchen on Sundays. This tradition started quite a few years back when both of my children were notoriously picky eaters. During one of our doctor visits our young pediatrician suggested involving the kids in making meals. The idea was promptly put into practice and blossomed into a favorite family eating activity.
One Sunday was particularly memorable. We were hosting a couple of their friends for a playdate and I decided to invite the kids to stay for dinner and be part of our kids in the kitchen. This time, I chose the theme for our dinner: Wild Vegetable Adventure Soup, with a side of homemade hamburgers. The kids were surprised by the menu and looked confused. I promised them a ton of fun, and they cheered.
I drove the 4 kids to our local supermarket and set them loose in the Produce section. I gave them orders to pick out two types of vegetables each. In order to avoid ending up with eight sticks of carrots and a whole bunch of corn in my adventure soup, I added the condition that they could not have the same type of vegetables. Oh, and I hold veto power. My veto power's only intended target was dreadful cauliflower. I hate cauliflower.
The kids had a blast running all over the vegetable area, deciding, negotiating, and helping one another pick. I waited patiently until they all came running with 8 perfectly picked out vegetables. There was no cauliflower in the mix so I said yes to them all. They cheered.
When we got home, more fun began to unfold. Each child was responsible for cleaning and preparing their own vegetables. The kitchen was full of chatter, giggles, and water splashing, as they gathered around the sink and counter tops to clean, peel, and chop their vegetables. Finally, they dumped their prepared vegetables in the pot I had put out for them. I did have to watch and hover over the two little ones as they peeled and chopped.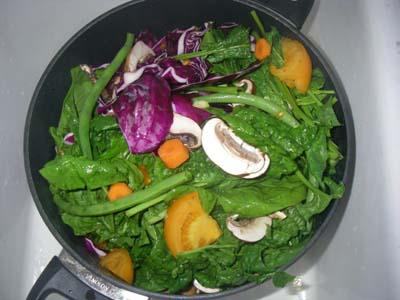 For the hamburger, I prepared some ground beef and showed them how to take some beef and roll it into a ball and flatten it into a beef patty. They got to prepare their own beef patty according to how big a hamburger they wanted to eat, and I supervised as they each cooked their own hamburger patty.
Now, our house is full of the aroma of grilled beef mixed with fresh vegetables. My baby chose a red cabbage, and after the soup spent some time on the stove, it started turning the whole soup purple. Even I was surprised at the deep purple colored soup, I had never put an entire red cabbage in soup before.
"Our soup is purple!!!" they cheered.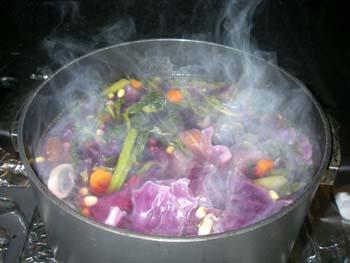 The purple created so much excitement and fanfare in my kitchen. I felt like I received a special favor from god that day in making my Vegetable Adventure truly wild to the kids.
When the food was ready for consumption. All the fun and energy was properly channeled to the dinner table. The kids each had a big bowl of soup and a small plate for their side of kiddie sized hamburgers. They constructed their own personal hamburgers with the fixings I put out on the table, and thoroughly enjoyed themselves as they ate their soup and burgers. We had a lovely little dinner party that night.
A couple of days later, I got a short email from their friend's mom. She wrote that her kids wanted to come over and make dinner for us again.