A while back……
"Mom! The Rolling Stones are having a concert on Oct 19th!!!!!" my 16 year-old.
These guys are still alive?!
It is an utter mystery why my teenage daughter would have the music taste of a male who might start to pay attention to the benefits of AARP.
"Mom! They are my favorite band. Please can we go? PLEASEEEE." the teen.
"Are they coming to town?" me, with a deep frown to tamper with her enthusiasm.
"It's in Las Vegas!" teen, unfazed by my troubling facial expression.
I cast an even deeper frown aimed sharply at my teen.
"The only problem might be that it is on a Wednesday night." teen, still dreamy and walking on clouds.
She thought this was the ONLY problem!
This problem was good enough to latch on for a refusal. We are not retired people like most of the Rolling Stones' fans. A flight to Vegas on a weekday would mean missing school and work.
I went ahead and broke the poor girl's heart. I added how sorry I was that this concert wasn't on a weekend.
"I know you love the Stones. If this concert had been on a weekend, I would totally take you." I was laughing on the inside.
Two or three weeks after that…..
"MOM!!!! Rolling Stones is adding a second show in Vegas! On Oct 22nd. It is a SATURDAYYY!!!" teen, pumping both fists.
She had to be messing with me. But no! The Rolling Stones did announce adding a second show in Vegas, on a Saturday. UNBELIEVEABLE!!!
Last Saturday, the two of us touched down at the Vegas airport just before noon.
In honor of our Rock and Roll weekend, as soon as we dropped off our bags at our hotel, we took a taxi to Hard Rock cafe for lunch.

Ah, their Pineapple and Coconut Mojito was amazing, nothing puts me in the mood for vacation better than a mid-day cocktail.
After lunch, we leisurely walked the strip and visited the big casinos. We shopped, ate snacks, and were wowed by each casino's over-the-top extravagant decor.
We made our way to the newly built T-Mobile Arena about an hour before the show time, and joined thousands of fans already congregating there in eager anticipation of the show.

The Rolling Stones rocked the arena for two full hours. I danced alongside my teen to the music.
At around 11PM, we poured out of the arena with tens of thousands of satisfied fans. A mad maze of neon lights enticed us back to the busy strip, and we went on shopping.
At midnight, we decided a burger sounded good. We sat down at a cafe for a second dinner, and reminisced about the highlights of the concert.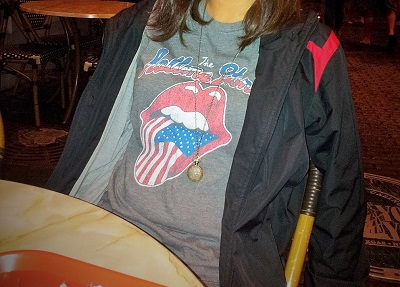 My daughter smiled ear to ear the whole weekend. It was priceless.
Previous related posts:
Dirty Talk