I hosted a rather elaborate party for my kids and their friends over the weekend.
The party started at a traditional English tea house where we had lunch and tea. I booked a private room for an hour and 45 minutes for our group of 16 (13 children, 3 adults). And I was smart enough to bring along a large bag of Arts-and-Crafts kits to the party, and that kept the kids entertained after they finished eating. The kids played and giggled, while myself and my two friends yapped away at our adults-only table. It was the perfect plan….having our own room meant no waitress had to come over to tell the kids to keep quiet and stay in their seats.

After lunch, we walked across the street to the
Winchester Mystery House
for our own private tour.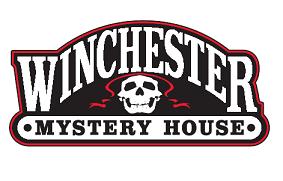 The Winchester Mystery House is a bizarre Victorian mansion featuring about 160 rooms, 10,000 windows, built and re-built over 38 years, non-stop, around the clock!! This fascinating mansion is the result of the imagination of the eccentric Mrs. Winchester and the spirits believed to have guided her.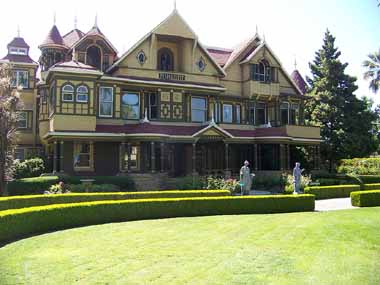 Mrs. Winchester was only about 4 ft 9, and this huge house of 160 rooms all seemed to be catered to herself. Tiny doors, tiny stairs of steps only about 2 or 3 inches tall, narrow hallways, short ceilings, just the right sizes for our group of kids. They were intrigued by the secret passageways, the door that lead to nowhere, the stairs that lead straight to the ceiling, and the cabinets that open to a wall. They marveled at the countless baffling structures of this house our guide had pointed out, and even asked our young tour guide how he got such a cool job.
After our 65 minute tour ended, we set the kids free, and let them run wild in the Victorian garden area. Finally, at 5PM, the parents came to pick up the kids and we all went home exhausted.
Over dinner, the kids were still talking about how much fun they had at the party. So, I asked my 7 year old, "So, tell me. What was your favorite part of the party?"
My baby's little face beamed, and said, "Sugar cubes!"
"What?" me
"The sugar cubes. I put 7 of them in my tea." baby
"Me too!!" my 10-year-old chimed in, "but I only had 3 of them in my tea. I put 4 in my water."

I almost passed out…