I was sipping coffee in the lobby of a local tune-up shop early Monday morning. My car needed an oil change.
Just as I expected my car to be done, an auto mechanic poked his head in, and asked for the owner of a white Volvo. Oh! That's me. I happily raised my hand.
He waved me to follow him into the work area. As I stepped into the garage, I could see that my car still sat in one of the stations, with its hood popped up. This could not be good…I braced myself for abuse.
We stood in front of my car's open hood, looking at the engine. He wiped out a thin strip of paper, and told me that he tested the paper with my brake fluid, and the tip of the paper turned purple. I saw that the tip of the paper was indeed purple. Then he produced a bigger and wider strip of paper which had more colors, and he placed my shade of purple against his color code guide…it said that I needed to have my brake fluid flushed and replaced.
"I can do it in half an hour, $79.99." He informed me.
But he wasn't done, he had more recommendations to make.
My car's next impending doom had to do with the fuel injection. He didn't have any color-coded stripes to help him explain away this time. So, he pointed here and there, and spent quite a few minutes explaining the problem to me verbally. I had no idea what he was talking about. But, I pretended to understand, looking here and there, and glancing at him now and then.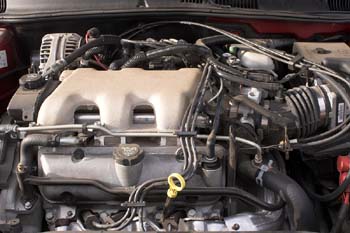 I suspected that he understood perfectly that it was all gibberish to me. And that satisfied him just fine. His intent was probably to inject fear into me so I would reach for that plastic in my wallet. He might have thought that it was working. He was confident enough to end our session by telling me that my rare breaks also need to be replaced. What mother would drive around town with bad breaks!
Well, he was WRONG! My car just spent a whole week at the Volvo dealership 5 weeks ago for major work. With the exception of this impending oil change, my car had received a clean bill of health.
The mechanic only succeeded in upholding their industry's conning reputation. I was totally unconvinced. But I was irritated as hell. Lucky for this mechanic, my rising anger wasn't targeted at him. I was pissed at the man that I have been married to for almost 14 years.
The car is one of the few things in our household that I ask my husband for help with. And he is not helpful! If I insist, then it will take me days if not weeks of calling, emailing, and daily nagging to get him to take action. And the car better be having a life-threatening defect. Oil changes do not qualify.
Fifteen minutes later, I finally paid my bill and left. As I drove to my office, my mind wondered back to that guy I call my husband again, who was likely still snoring in our bed. He might be sleeping peacefully, but my mind was at war with him. Later that morning, I calmed down substantially. I decided that I should work with my husband on the car. I have better odds of beating him than the mechanics. I made peace with him, and formulated a plan.
Moving forward, I will submit to him in writing whenever a car issue needs to be dealt with, and he will be given three business days to take action on it. And if he likes to stay happily married, he BETTER JUST DO IT!