Summer is my best season to spoil my kids rotten. There is no homework, no big school projects with tight deadlines, no Chinese School, no Soccer practices and matches, and they even get a break from their piano lessons. The kids are free to just be kids. Well, almost… The kids are not free to spend their summer days in idle mode, so I send them to various summer camps to keep them busy and learning. Lucky for me, there are many summer camps that satisfy my idea of spoiling the children.
The kids are in Camp Galileo and the Tech Museum Camp this week. I have been sending the children to these camps for a few summers now. I like these two programs due to their success in disguising the learning in the form of FUN. So the kids love them. And their happy faces are my validation that they are duly pampered.
For some reason, my kids get crazy excited about their camp's weekly theme day, which I think is only a minor part of the camp experience. When I pick them up on Monday afternoons, they are sure to tell me what the camp theme is for the week, and expect me to dress them up on theme day in such a way that will turn heads and earn top praises.
My baby's camp's theme day is usually pretty easy. And this week, they have "Jalloween", I think it stands for Halloween in June. At first, I thought it would be a piece of cake, as we have lots of old Halloween costumes in the kid's closets. Then it hits me that the costumes are all too hot for summer weather. No problem! I got out an old fanny pack, a backpack, hat, sunglasses, a toy camera around the neck, a couple of maps, and easily transformed my baby into a cheesy tourist. So, then next morning, while most kids show up dressed as princesses or as Batman, we dropped off a wondering tourist, with map in hand, seeking directions to the camp site playground. Ha, ha, we dress up and can play the character too.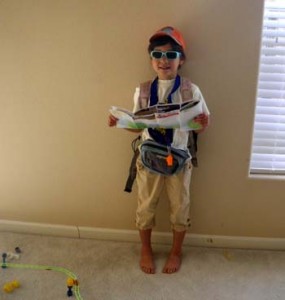 My 9-year-old's camp themes aren't so easy, as I learned from last year. This week, they have "80's" theme. On the drive home, I was scratching my head, and popped out images of Michael Jackson, Prince, Madonna, and the ladies in their leg warmers in their Aerobic videos. I racked my brain and complained out loud that this theme is too hard.
"Don't worry, Mom. I already know what I want to wear", offered my 9 year old.
"What will you wear??" I was totally surprised.
"I will show you when we get home!"
Wow, my child must be growing up, and one less thing I have to worry about.
As soon as we arrive home, my 9 year runs upstairs. And within 2 minutes I heard fast footsteps coming down the stairs.
"This!" My 9 year old came to me with a costume.
"Hmmm……." is all I could come up with at that moment as I stared at a costume that I had purchased for a school play about the American Pioneers!
Finally, I said, "80's means 1980's. Not 1800's."
"Does it matter? I want to wear this." 9 year old insisted.
"1980s is not THAT old!! Go put it back!" I roared. And the child ran back upstairs.