A couple of weekends ago, we went to Seattle, WA to attend a family wedding. While we sat waiting for our lunch to arrive inside a restaurant with large windows, I couldn't help noticing a prominent ice caped peak above some clouds in the distance. This famous Washington State landmark is the volcanic Mount Rainier. I became inspired, and talked my family into visiting the park the next day for a closer look.
Mt. Rainier is beautiful. I had expected a Lake Tahoe like scenery, but Mt. Rainier is host to a much more diverse and dense vegetation, and with abundant rainfall, it is much more green. Melting glaciers create cascading water throughout the park, and form gigantic waterfalls that dot the major hiking trails.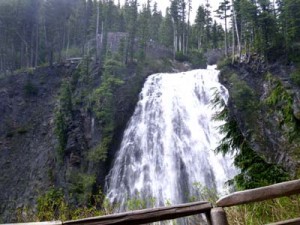 We had not come prepared–dressed comfortably for spending the day inside our rental car. But we decided on a mile-long hike anyway to see one of their waterfalls. Soon we discovered that the short hiking trail we choose included some painful terrain, and was very steep. We looked totally out of place in our slipper-like shoes among backpacking hikers here and there. Every time, we contemplated on giving up and turning back, some friendly hikers on their way down would tell us that it is not far up ahead, and it will be worth the trouble. Although, there was one hiker that was not as encouraging.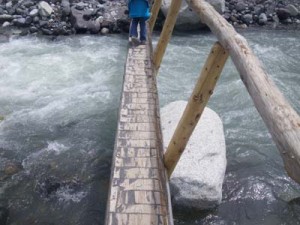 We came upon a section of the trail where there was a long and huge metal tube oddly out of place in the middle of this nature wonderland.

Puzzled by its presence, I stopped in my tracks to think out loud and out of breath, "What is this huge metal thing doing here?"
A hiker on his way down and heard me talking to myself. Without stopping or looking up, he pointed back up, and said, "That's for the big fake waterfall you will see up ahead."

I love waterfalls, where can we buy more of these huge metal tubes…