The baby came home today, and plopped these papers in front of my laptop, with arms crossed in front of her chest, and looked mighty triumphed.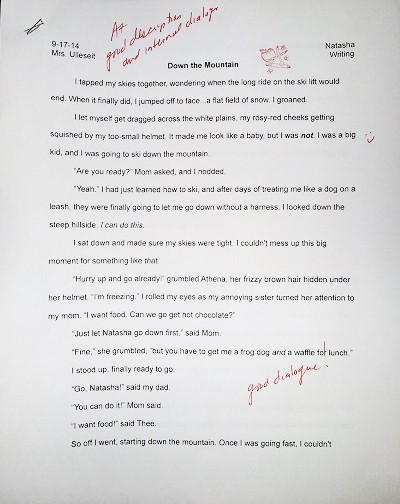 Ah…she got an "A+" on the all important first writing assignment of the school year.
It is indeed an excellent personal narrative essay written by an 11 year-old. I thought that I will share it with my readers on my blog. This was based on an actual event when the baby had just learned to ski many years ago. She was probably just 4 or 5 years old. Enjoy…
Down the Mountain
I tapped my skies together, wondering when the long ride on the ski lift would end. When it finally did, I jumped off to face…a flat field of snow. I groaned.
I let myself get dragged across the white plains, my rosy-red cheeks getting squished by my too-small helmet. It made me look like a baby, but I was not. I was a big kid, and I was going to ski down the mountain.
"Are you ready?" Mom asked, and I nodded.
"Yeah." I had just learned how to ski, and after days of treating me like a dog on a leash, they were finally going to let me go down without a harness. I looked down the steep hillside. I can do this.
I sat down and made sure my skies were tight. I couldn't mess up this big moment for something like that.
"Hurry up and go already!" grumbled Athena, her frizzy brown hair hidden under her helmet. "I'm freezing." I rolled my eyes as my annoying sister turned her attention to my mom. "I want food. Can we go get hot chocolate?"
"Just let Natasha go down first," said Mom.
"Fine," she grumbled, "but you have to get me a frog dog and a waffle for lunch."
I stood up, finally ready to go.
"Go, Natasha!" said my dad.
"You can do it!" Mom said.
"I want food!" said Thee.
So off I went, starting down the mountain. Once I was going fast, I couldn't believe I'd been nervous earlier. This was so fun! I straightened my skies and started going faster.
"Pizza skies! Remember to turn!" I heard my dad yelling, but I shook my head, knowing those things would slow me down. I closed my eyes, just feeling the wind in my face, blowing back my hair. I was picking up speed, approaching the bottom of the mountain. I savored my last moment on the mountain before reaching the bottom. I could already see myself getting off the mountain, turning expertly, my family clapping and cheering…
But wait! Something was wrong. My skies caught in a wedge of snow. "Ahh!" I shrieked. My arms flailed wildly, and I fell on my face. All I could see was white, white everywhere. The cold engulfed me, and I shivered.
"Are you okay?" Mom asked, worried.
"What happened?" asked Dad.
"OMG, Ta!" Thee said. Huh. I guess she cares after all. Then she started laughing like crazy. "That was hilarious, dude!" Never mind.
But then I remembered the wind in my face as I skied down. I remembered that last, perfect moment before I fell…I poked my head up, a big, toothy grin on my face. "That was fun! Can we do it again?" They stared at me for a moment, and then we all started laughing. I rolled onto my back, giggling like crazy. Athena glared at me.
"Whatever," she said. "Can we go get food now?"
Laughing to hard to say anything, I just nodded and started ski-walking off. I had to admit, a nice, hot chocolate and warm waffle around a campfire was sounding pretty good right now!
Previous related posts: A Family Winter Holiday
Family Ski Trip at Squaw Valley
Big Butts Are Sexy!
I Believe in Confidence
The Goddess of Wisdom