The most memorable part of my visit to China was an over night trip to Pinhu. I went there to see an abandon old farmhouse.
Pinhu is a suburb of Shanghai. It used to be all farmland. It is now part city and part farm country. My father was born and raised there until he was a teen. He spoke of Pinhu often with great fondness, and this prompted me to make a pilgrimage to my ancestral home.

My cousin from Hangzhou offered to drive us to Pinhu. He has been to Pinhu many times, and does not quite understand why I would leave his beautiful hometown of Hangzhou to visit a little farm house.
My dear cousin told me many times during the drive to expect nothing more than a forgotten old ruin. He said that part of the property is now a pig pen, and the house might be used as storage for junk. In fact, he humorously suggested that we leave my husband and two children at the hotel to go see the house by ourselves. He harbors a concern that if I allow my American family to witness my shabby origins, I risk embarrassing myself. I assured him that I have thick skin.
After we dropped off our overnight bags at the hotel, we headed for the farmhouse. My cousin had no trouble finding the place–as we traveled on a dusty two-lane road lined by farmland, he suddenly pulled into someone's farmhouse. I was surprised by the sight of a farmhouse that looked very much lived in. My cousin said that is not the house, he just needed to park the car in front of that house, as there are no other place to park. Some farmers came to look at us, my cousin simply lead us away.
An old grayish farmhouse came into view. It was half engulfed in over-grown green vegetation. The house was set far away from the road, but apparently the side of the house facing the road is the backside of the house. It took us a while before finding a reasonable path that lead to the front of the home.
As the front of the old farmhouse came into view, I was immediately taken by its surroundings. The front of the house faced a wide river, and overlooks the more newly built farm houses and well laid out farmlands on the other side of the bank. Although most of the house is circled by tall green plants, one side of the house is shaded by a small forest of tall bamboo trees. And not far down the path, there is a lovely arch-shaped pedestrian bridge for crossing to the other side of the river.

Despite the obvious that the house had broken windows, a large crack on one of its walls, and a partly collapsed roof, it preserved strong evidence that it was once a handsome home, still nested in a charming setting.
The door and windows were locked, and I declined my cousin's offer to break it open. I felt a special warmth towards the house, and admired it from the outside for long while.
When we got back into our car, my cousin said that he would take us somewhere nearby to visit some relatives. Relatives I never met before or didn't know existed. Most of them are still farmers in Pinhu.
My cousin stopped at one farmhouse, and told me that my father's older cousin lives there. No one was home. They weren't expecting us. A neighbor ran to the farm to find my relative, and it didn't take long for an old farmer to appear. He was probably in his eighties, and still working the farm. I couldn't understand his local dialect, but he understood that I am my father's daughter. Soon, lots more people showed up for us to meet and greet: sons, daughters, in-laws, grandchildren, even a great grandchild, and some neighbors.

Soon, we turned the afternoon into a party. Our hosts received us warmly, brought in fruits that grew from their own farm, and other local snacks for everyone to eat. They gave us a tour of their home, took many pictures with us, shared livery conversations, and much laughter. The children, including my two kids all played outside. They got busy pumping water out of a well, and then carried and sprayed the water to help farm the land.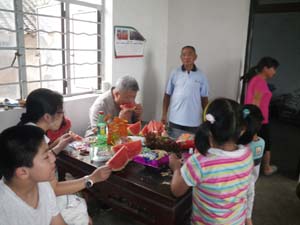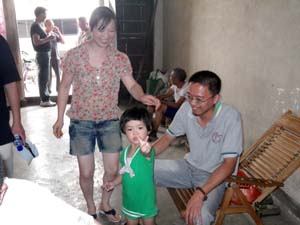 That night, we had a big dinner party, and the next day, we had a big lunch party. We enjoyed meeting our new relatives very much.
On the drive back to Hangzhou, my cousin was satisfied that Pinhu wasn't a waste of time after all, and I left feeling proud of my humble and charming origins.