Hubby and I roll out of bed at 7:30AM on Sunday morning, woke our 10 year old, and tip toed downstairs quietly. It was our baby's birthday. And it is our family tradition to serve breakfast in bed on birthdays.
And this was not just any breakfast, but Krispy Kream doughnuts! Our baby's favorite. As I worked on the doughnuts, hubby and my 10-year-old brought out the balloons and presents from hiding. I carefully cut up two doughnuts, and used frosting to glue the two doughnuts together to make a perfect figure "8".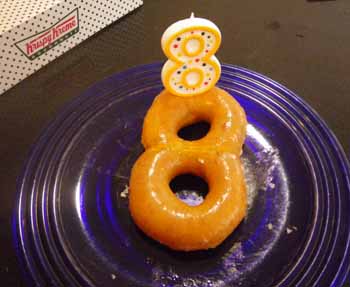 Doughnuts are usually banned for obvious reasons. Today, they helped us scream this message to our baby: "You are so special today!! We are happy to give you food that we know is bad for you."
Tasterbach woke up with a big grin by the sound of our energetic Happy Birthday song. As soon as the candle was blown out, a frenzy of hugs and kisses showered upon the baby, then hubby and I got busy with snapping pictures and video taping. The baby chowed down both doughnuts, and opened presents.

The kids spent most of the morning in their Pjs, playing with the new Super Mario Bros DS game, and eating doughnut holes from the UN-authrozied box of Krispy Kream that hubby shouldn't have brought home.
Then it was time for lunch. "Tasterbach, what do you want for lunch? You are the boss today." me.
"I want to eat doughnuts for lunch." Tasterbach issued the order without hesitation.
If we had been ordinary parents, we might talk the baby out of it, or simply point to the left over doughnuts still sitting on our kitchen island. Oh no! We are super hero level parents. We told the kids to get dressed, and packed everyone into the car, and drove 10 miles to Psycho Donuts.
I remembered Psycho Donuts from the local news channel a couple of years ago. It caught my attention, because I knew the founder. We used to work for the same company. Psycho Donuts features over-the-top scarey and wacko themed donuts. This was perfect, because our baby has a fondness for zombies, vampires, and monsters.
We were not disappointed. I ordered myself the "Dead Elvis", it has peanut better, banana, and bacon on the doughnut.
I have always wanted to eat beacon with my doughnut. The baby ordered the "Cereal Killer".
The four of us bought 4 donuts, drinks, and ate at the counter table as if donuts are meant to be consumed as lunch.
We spent the afternoon watching the nail biting and disappointing World Cup Women's Soccer game. I fully anticipated team USA to perfect the special day with a joyful win. But Team Japan did not cooperate. They put up a fierce fight, and clenched the title.
By then, I was looking forward to Alexander's. To those of you familiar with the previous post, this was how we decided on this restaurant.
Me to hubby, "I can't talk Tasterbach out of Alexander's. I tried for a whole week."
Hubby to me, "Better make a reservation at Alexander's then."
The next day.
Hubby to me, "Did you make a reservation at Alexander's?"
Me to hubby, "Yeah."
Truth be told, our baby did not chose Alexander's to act adult-like and be cute about it. The kid really loves bloody steaks! Tasterbach devoured an 8 oz medium-rare steak with little assistance from the rest of us.
And to my delight, our waiter brought us a free birthday dessert to help us celebrate the occasion.

Well, I am happy to report that we survived the baby's birthday…no sugar comas, no heart attacks.