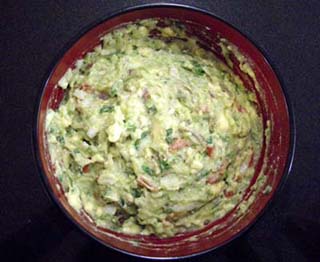 I can make a mean guacamole. I love guacamole–just thinking about it makes my mouth water. The only way I used to get fresh guacamole is by ordering it at a restaurant. Not only is it usually pricey, but it is almost always presented in pitiful portions, leaving me and my eating companions to immediately take up arms with the chips and fight over it.
So, I started to make it myself. It is actually very easy; it just requires lots of chopping.
Ingredients:
1)Three large ripe avocados.
2)Two medium sized tomatoes.
3)About a third of white or red onion.
4)About a quarter cup of cilantro.
5)Lime
6)Salt & Pepper
Optional ingredients:
1)About a half cup of cucumber– I like to add the cucumber because it adds to the crunchiness of my guacamole, but unlike celery, the cucumber does not have a strong flavor of its own, and will not invade the taste of the avocados.
2)Jalapeño-My family can not handle spicy food, but if yours does, then chop up a Jalapeño and spice up your guacamole.
Preparation:
Finely chop the tomatoes, onion, cilantro, and cucumber (peel off the skin first). Tip! When you chop the tomatoes, remove all the liquid and seeds inside first. If not, if will leave your guacamole with a layer of liquid on top. The liquid does not have much of an effect on the taste, but gives your guacamole an amateur appearance.

Halve the avocados, remove the pits, and then use a spoon or just a knife to remove the avocado flesh from the skins into a bowl. Mix in all the finely chopped tomatoes, onions, cilantro, and cucumber (and jalapeno), and mash it all together. Season with salt and pepper to taste. Then squeeze in about half of a lime. It adds a citrus taste, and also helps prevent the guacamole from browning easily.
Serve it with some tortilla chips or pita chips and enjoy.