We woke up to another gloomy day over the weekend. Grey skies, steady wind, and a patch of menacing black clouds in the distance. California has been experiencing unseasonably chilly weather this past few weeks. It is not the kind of unusual weather that makes one wonder if summer will ever arrive, it is the kind that makes one think that winter is demanding a comeback.
But hey, this is still California. Our sun has the habit of shining upon us. By around 11AM, the sun peeked out of the clouds, and made a glaring appearance.
"The sun is out! Let's go to Monterey." hubby walked into the family room and cheerfully announced.
"Okay!" me, jumping out of the couch.
I love Monterey Bay. It is only an hour and 20 min drive from home, but it feels like it should be hundreds of miles away. Whenever I am in Monterey, I feel like I am on a vacation somewhere.

We quickly demanded that the children quit their Wii game, and dragged them out of the house with us.
We arrived at Monterey shortly after, and it was time for lunch. We drove around and found cheap parking on the street, and walked right over to Cannery Row to find food. Cannery Row has a number of sea view restaurants. A young woman offering us free samples of Clam Chowder easily won over our kids, and we went into her restaurant.
After a delicious lunch, the kids wanted to bike. So, we rented a 4 person Surrey bike, and cruised around town.

It turned out to be quite a nice day, and lots of people had the same idea. We found lots people out on the beach, in the park, some even brave enough to go kayaking in the very cold water.
When we passed by the Wharf, it was packed. We felt lucky that we had chosen Cannery Row to have lunch instead.
And not too far from the Wharf, a few seals were out tanning themselves.
Seals are smarter than they look.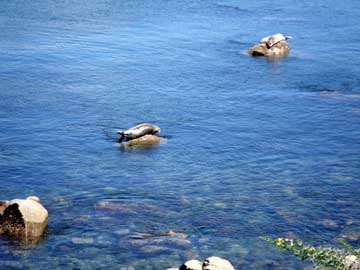 Oh, there are lots of coffee shops in town, and when I saw a Peet's, I couldn't pass that up. I am a huge fan of Peet's coffee.
After we returned the Surrey, we went back to Cannery Row. This time, we went to window shop. Cannery Row is only about 2 or 3 blocks long, but it is a lively street, full of various and interesting shops, Cafes, Ice Cream and Yogurt shops, Chocolate and candy stores, more sweets…and our window shopping came to a streaking stop in front of a candy-apple store.
"Mom. It has been a long time since we had caramel apple." 10-year-old, and they immediately engaged in pleading and begging.
I did not hesitate to say yes. The only way to top such a pleasant day is by adding caramel apple. What parent would say "no" to an apple!
When our 4 hour metered parking space was about to expire, we headed back to our car.
On the way home, we saw signs to local farmer's markets, and stopped at one to buy artichokes. And we bought a bottle of local California honey.

Did you know that you should feed your children locally harvested honey? I saw a TV documentary once, that honey harvested locally can help your children build immunity against allergies. It sort of make sense, local bees collect pollens from local flowers. Best of all, local honey will keep your children close by when they grow up… They can still suffer allergies elsewhere.